During the COVID lockdown, I took part in a ten-week online art workshop. Much of this work was created during those weeks and the weeks following.
---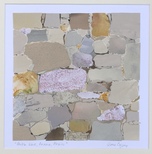 Oaxaca, Mexico 2019
In June 2019 I traveled with a friend to Oaxaca, Mexico. What a wonderful trip! We visited many ruins, art galleries and shops, weavers, potters.....we were immersed in art everywhere we went. It's a colorful city, full of friendly, hard-working people. I tasted everything I could, from grasshoppers to mezcal.

I took lots of photos while on this trip and I intend to use them for inspiration in this series.
---

My Garden - Inside & Out 2019
I am part of a group of artists who meet regularly on Tuesdays to create art. A few weeks ago there was a still life set up that several artists decided to paint. Since I was deep into my painted-paper-collage phase, I decided to create a collage. I didn't have any of my own painted papers with me there at the hosting artist's studio, so I very quickly painted a bunch of papers using available acrylic paints. The collage "So Gratifying" is the result of that effort.

Since then, I've made several collages of plants around my own home.....outside, inside....it is all fodder for my work!
---

Cityscapes: Real and Invented 2017-2019
While taking an art class, I was given an assignment to create one cityscape. The result of that assignment was "Sunday in the City." I quickly realized that I loved the idea of creating a fantasy city. I like selecting a paper from among my painted-paper stash to use as the sky, then selecting and cutting up other papers and creating buildings. While I was working, my cup of chai was sitting on my work table in front of me. I suddenly had the idea of using a piece of the cup warmer in my collage. It added sort of a grungy, urban feel to the collage—perfect for a city. I enjoyed making that collage so much that I decided to begin a series of real and invented cityscapes!
---

Sailboat Series 2017-2019
I was potting around in my studio, looking through some of my hand-painted papers and I came across a yellow paper that was intriguing. I had made that paper many weeks before by folding the paper prior to laying down a yellow watercolor wash, and dashed in some other colors. As I was looking at the yellow paper, it came to me that it could be used as water...as the sea or ocean or lake. So that is how I began this sailboat series. One sheet of painted paper lead me on to another...and another. And so the sailboat series began.
---

Winter Landscapes 2017-2018
During the last few days of this summer, my thoughts were turning toward fall and winter. I already had a "tree" collage that I had created earlier in the summer and thought that it might lend itself to the beginning of a new series...a winter landscape series. Trees, hills, snow...we'll see what happens.
---

Moonlight Swims-2016
The beach neighborhood where I live has a small public beach area for swimming. I was inspired to create these painted paper collages following a night-time swim. The evening was cool enough for a cover-up, the moon was shining on the water, and the water was just beginning to take on that chilly fall feel. It was a lovely night swim! I hope you enjoy my collages as much as I enjoyed creating them. (I've made nine of these, so will post the rest once I've taken pics.)
---
Balanced-2016
This series is a result of my "playing around" with shapes, testing out the colors and arrangements of the shapes, until I was pleased. I had finished five of them when I decided they needed something else. That "something else" ended up being some playful ink marks. I like them. I may very well make more. It's so satisfying to create art.
---

California Road Trips-2015
A while ago my older son, while living in the Bay Area, was hiking solo in the mountains near San Francisco. He took many beautiful photographs, one of which I used as inspiration for a collage. I was so pleased with the result that I asked my sons and nephews, all of whom lived in that area, to please send me photos they had taken of winding California roads. I used those photographs, along with some taken by a good friend and myself when we drove from San Luis Obispo to San Fran, as my inspiration for the "California Road Trip" series.